Villa Lysis
Map
The Magic of an Icon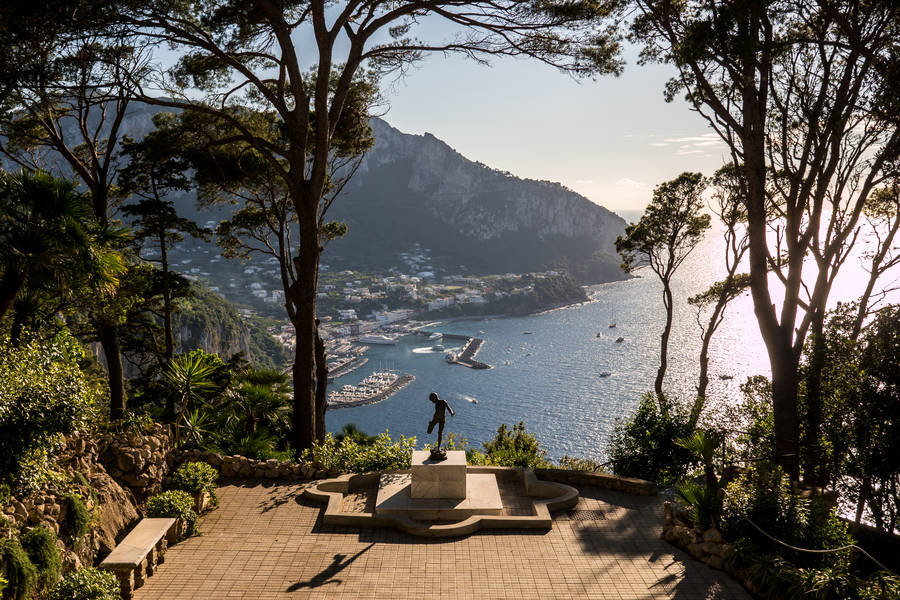 'Information:

Getting to Villa Lysis: from Capri's Piazzetta, there are two ways to get to the villa. Along Via Longano and Via Sopramonte, or along Via Le Botteghe, Via Fuorlovado, and Via Croce. Both routes take you to the "Cross" where you will take Via Tiberio to the intersection with Via Lo Capo.
Walking time: From the Piazzetta, it's about a 45 minute walk uphill, so make sure you are wearing comfortable shoes!
Hours: May-September- October 10 am -6 pm; June-July-August 10 am -7 pm; November-December 10 am-4 pm
Closing day: Wednesday
Ticket: EUR 2 (free for children under 12)
There's something magical about Villa Lysis, built in 1904 by Jacques d'Adelswärd Fersen, a nobleman from Paris who chose the island of Capri as his retreat after exiling himself from Parisian society following a scandal in his home country.
Villa Lysis is closely tied to the personality of Fersen. Elegant, eccentric, luxurious, reserved, beautiful, and above all a private refuge where the Count could have enough privacy to enjoy his love affair with the young Roman, Nino Cesarini, to the end of his life.
Over time, Villa Lysis became a gathering place for artists, intellectuals, poets, and writers who travelled to Capri at the beginning of the 19th century and who made the villa famous through their artwork and writing.
An Enchanting Villa
Visit Villa Lysis and discover its secrets and wonders. You'll be stunned by the opulent salons, with their stucco and intricate decorations, furnishings, and marble, all of which have been influenced by the the luxurious style of Louis XVI, the theatricality of the Neoclassic movement, Greek and Art Nouveau design, and the Viennese Secession school, with its gold leaf and Oriental influences.
These styles together form an extraordinary villa perched on a clifftop overlooking the sea with views over the Marina Grande Bay which will take your breath away.
The most iconic architectural detail at Villa Lysis is its grand staircase which leads up to a peristyle lined with Ionic columns inscribed with the aphorism "Amori et Dolori Sacrum", chosen by Fersen himself to represent his life story.
Suggestions: Nearby Sights to Visit
Near Mount Tiberius, not far from Villa Lysis, there are two other sights to visit which are equally interesting and make the walk up to the villa worth the effort!

Villa Jovis: the residence of the Roman emperor Tiberius, this is the most important archaeological site on Capri and is at the very top of Mount Tiberius. Villa Lysis and Villa Jovis are joined by a number of different walking trails through the countryside.

Closed: Tuesday.
Hours: 10 am to 6 pm; June, July, August: 10 am to 7 pm; September and October: 10 am to 5 pm: November and December: 10 am to 4 pm. Entrance until 30 min. before closing time.
Tickets: EUR 4 (free for EU citizens under 18; free the first Sunday of each month)

Parco Astarita: a small park right above the sea located next to Villa Jovis.

Hours: 10 am to 3 pm
Closed: Tuesday.
Free.